Film: Ludo
Language: Hindi
Streaming Platform: Netflix
Release date: 12 November 2020
Directed by: Anurag Basu
Produced by: Bhushan Kumar, Divya Khosla Kumar, Krishan Kumar, Anurag Basu, Tani Basu, Deepshika Bose
Written by: Anurag Basu, Samrat Chakraborty
Starring: Abhishek Bachchan, Aditya Roy Kapur, Rajkummar Rao, Pankaj Tripathi, Rohit Suresh Saraf, Fatima Sana Shaikh, Sanya Malhotra, Pearle Maaney, Inayat Verma
Music by: Pritam
Cinematography: Anurag Basu, Rajesh Shukla
Edited by: Ajay Sharma
Production Company: T-Series, Anurag Basu Productions, Ishana Movies
Running time: 150 minutes.
Abhishek Bachchan, whose previous outing, 'Manmarziyan' became a decent hit, joined hands with Anurag Basu and came up with a film 'Ludo.' Touted to be a dark comedy film, Bhushan Kumar, Divya Khosla Kumar, Krishan Kumar, Anurag Basu, Tani Basu, Deepshika Bose produced the film under T-Series, Anurag Basu Productions, and Ishana Movies. The film is available on the Netflix streaming platform.
Plot:
The story revolves around Sattu Bhaiya (Pankaj Tripathi). All the other characters in the film are directly or indirectly linked to him. Bittu (Abishek Bachchan) serves some time in jail and gets released. But he struggles to face the harsh reality of his life. Aalu's (Rajkummar Rao) girlfriend, Pinky (Fatima Sana Shaikh), asks his help for a crime against her husband. Akash (Aditya Roy Kapur) and Shruti (Sanya Malhotra) are a couple who had to get their leaked MMS cleared from the internet. Rahul (Rohit Suresh Saraf) and Sheeja (Pearle Maaney) also has a story. How the four stories are connected to Sattu Bhai and what happens, in the end, forms the story.
Actors & Performances:
Abhishek Bachchan breathes life into his character, and his amazing performance made it easy for the viewers to connect with his character. Pankaj Tripathi went into the skin of the character and has delivered his career-best performance. As usual, Rajkummar has delivered a remarkable performance. Aditya Roy Kapur is too good in his role and impressed the viewers. His refreshing performance has created a good impression on the viewers. Fatima Sana Shaikh has delivered a subtle performance and is a delight to watch. Rohit Suresh Saraf did an impactful job in essaying the role. Pearle Maaney's electrifying presence and Inayat Verma's skills are like icing on the cake.
Analysis:
Performances, writing, music, visuals, and editing are the major plus points of the film. The movie is very much enjoyable that we cannot find the major minus points of the film.
The music by Pritam is superb. Visuals by the DOP are top-notch. The production values are very high. Director Anurag Basu has succeeded in grabbing the attention of the audience with his taking and narration. His gripping screenplay is impressive and has got a lot of interesting elements in it. The twists and turns will keep the audience hooked to the movie.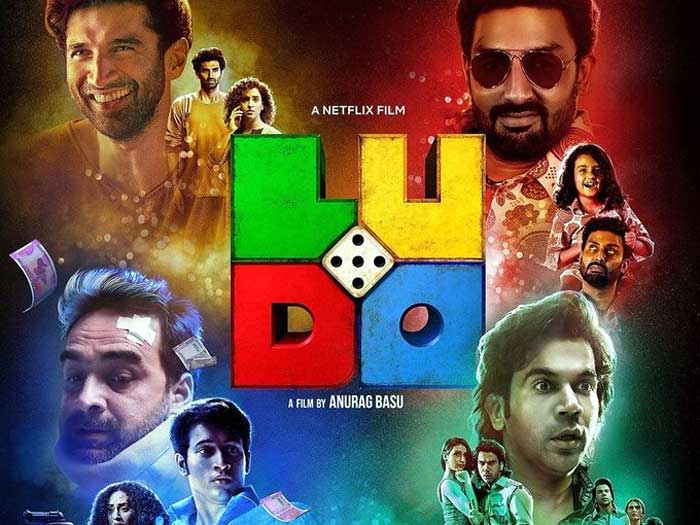 All the characters are established impressively, and we easily get connected to most of the characters. Also, the core cast's performances are too good to watch.
The fantastic performances made it east and very enjoyable to watch. The film has watchable chemistry and a beautiful story. Anurag Basu sure has grabbed the attention of his performance. Pritam's music made the film even more engaging.
On the whole, 'Ludo' is a perfect watch for this weekend. 'Ludo' is a crazy ride filled with only entertainment.
CLICK HERE!! For the
aha
Latest Updates